Richmond Bachelorette Parties with 540 Party Bus
Richmond Bachelorette Parties
Are you newly engaged and want to surprise your best friends with the news? Maybe you want to host a bachelorette party for your BFF before the wedding day. Richmond is the place to party and the fun starts when you board our Bachelorette Party Bus.
Richmond's Attractions
Richmond's dance clubs are the places to go to party into the early morning. Suppose you prefer something more low key. Head to one of Richmond's chic wine bars. The Richmond Wine Station, Secco, and Bartizan are excellent choices. If you love arts and culture, plan a daytime tour of Richmond's top art museums before dinner. The Institute of Contemporary Art or the Virginia Museum of History and Culture are excellent choices.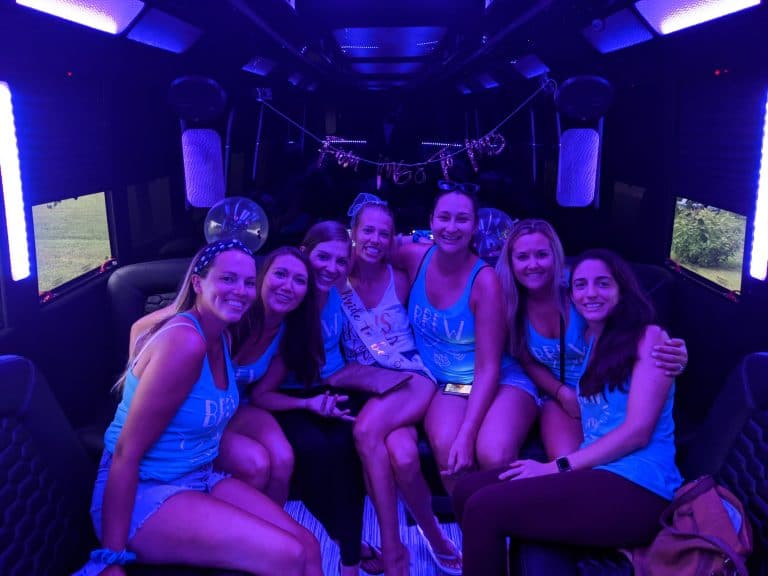 Winery Tours
A tour of the local wineries is the opportunity to sample some of Virginia's finest wines while relaxing in the beautiful countryside. The Ashton Creek Vineyard offers seating on their lovely patio. Wine is served by the glass, carafe, or bottle. The winery features a charming banquet room on the second floor, overlooking the balcony, perfect for small events.
The New Kent Winery, located between Williamsburg and Richmond, is a beautiful setting for small parties. The winery offers elegant theme dinners that are perfect for celebrating your upcoming wedding. If you prefer a weekend to relax with friends before the wedding, schedule a winery tour. Visit several of Virginia's wineries for lunch, tastings, and shopping. Among the featured wine tours in the Richmond area are:
Loudon Heights Cluster Tour
Potomac Cluster Tour
Leesburg Wine Cluster Tour
Waterford Cluster Tour
Party Buses For The Ultimate Party Experience
Step inside our party bus, pop a bottle of champagne and relax in luxury on wraparound leather seats. Our mood lighting, a state-of-the-art stereo system, and big-screen TVs create the perfect atmosphere to celebrate. Our luxury party buses can accommodate small and large groups. We're ready to assist you in planning your farewell to being single party.
Our drivers are experienced and always prompt. Our goal is our customer's satisfaction. Call us today. We'll plan your memorable bachelorette party bus experience and provide a quote for your event.