Fleet so sweet it'll sweep you off your feet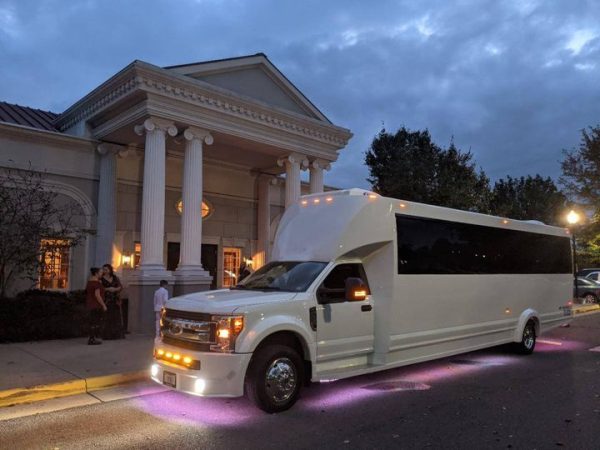 Our White Exterior Ford F-550 Party Bus is a customer favorite. The elegant exterior makes this bus perfect for wedding parties. With room for up to 26 passengers and premium leather seating, parties last longer! A premium custom sound system with 8 speakers, Bluetooth Audio and DVD options along with charger ports and fiber optic lighting make the night one to remember. Our party bus has a Driver-Passenger partition for those that want privacy and is stocked with bottled water and ice. Be prepared to dance the night away! Request your FREE Quote Here.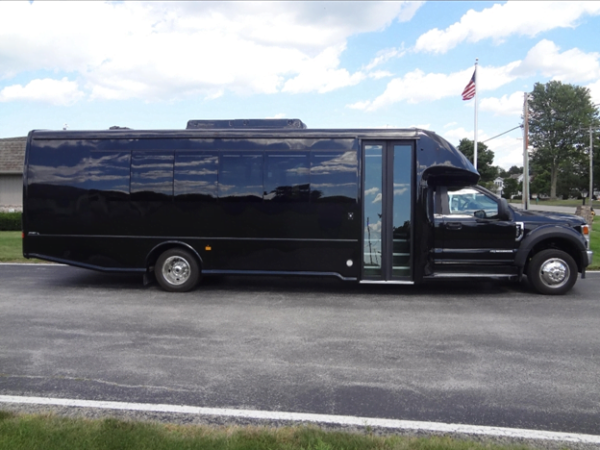 The New 28-Passenger shuttle bus is one in a million. Each row of seats has extra room in front to make sure there is space for each passenger. The leather seating is a custom trim with comfortable arm rests. The bus has custom lighting and a sound system that comes through the speakers crystal clear. A privacy partition separates the passengers from the driver for premium exclusivity. Give us a call or check out our easy to use reservation form for more information about hiring this 28 passenger shuttle bus.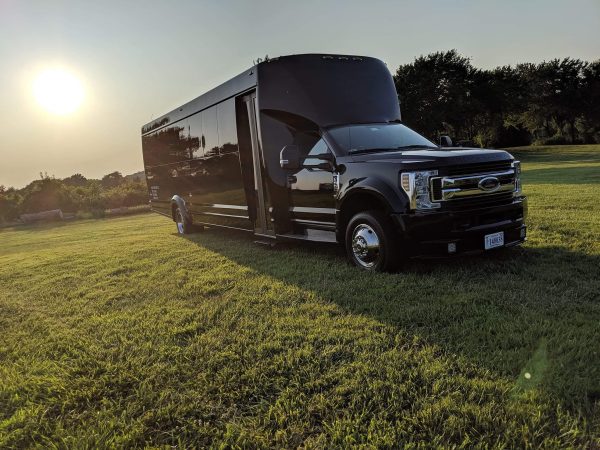 The Classic Black Ford F-550 Party Bus has that sleek, polished look that makes everyone turn to check out the party. With the great features mentioned above like the premium leather seating, custom surround system with Bluetooth Audio, and fiber optic lighting make this a one of a kind party bus. The bus is always stocked with bottled water and ice to keep party-goers cooled and ready to go. Our bus even has a Driver-Passenger partition that gives your party privacy. Check out our Quote Form to receive your FREE quote!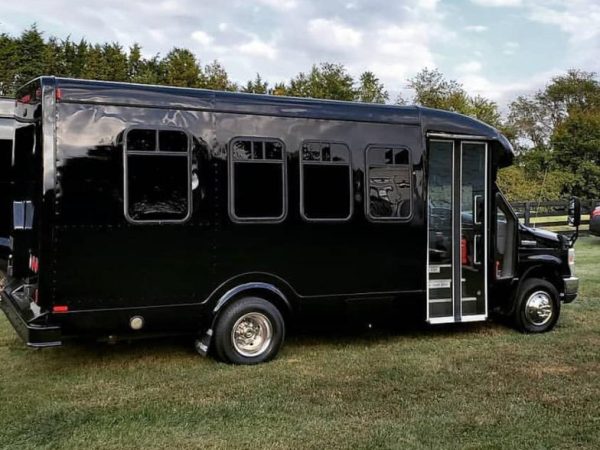 The Ford E-450 Party Bus boasts complete luxury with space for up to 14 passengers. Premium leather seating, a premium sound system with a DVD option is available along with charging ports for any phone type. The fiber optic lighting will keep the party going into the wee hours of the morning. Don't worry about dehydration… our party bus is stocked with bottled water and ice to help keep the party going in full swing. Request your FREE quote or reserve your bus today!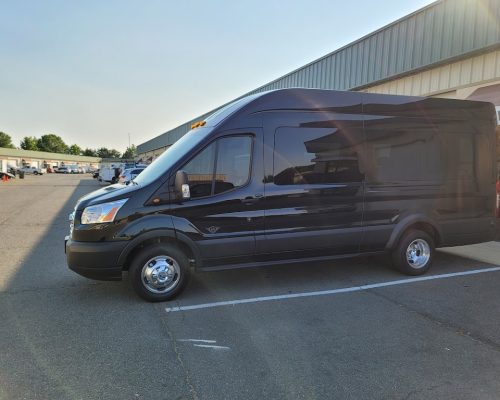 Ford Transit Executive Shuttle
12 Passenger Executive Shuttle
Consider the Transit for business meetings & roadshows, dinner, concert & golf outings, tours, group movements & shuttles, wedding parties, airport service or any event where you need comfortable, spacious seating and ease of entry and exit for groups of 2-13 passengers. You have all the sleek but discreet appearances & image of a high-end VIP level vehicle that is both efficient and affordable.
Comfortable seating for up to 12 passengers in the rear and 1 in the front plus the chauffeur

High Roof model allows for standing room even if over 6' tall

USB & 12V charging

Privacy Glass

Ample Luggage Space in the rear without losing any passenger seating

Sleek exterior design similar to Mercedes Sprinter

Large sliding door entry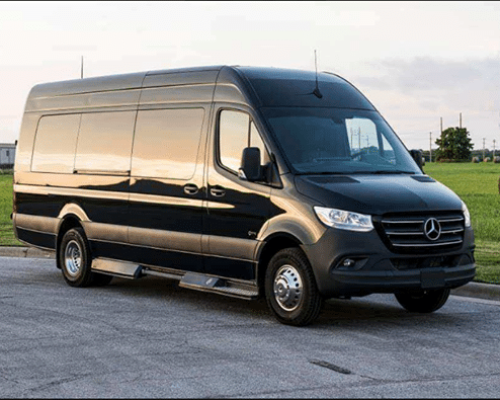 The smaller, more intimate Mercedes Benz Sprinter is one that catches the eye of passers-by. Premium leather seating is a part of the luxury during your ride with us, along with a  premium custom sounds system with Bluetooth Audio and the option to play DVDs. We know having your phone on you is important, that's why we have also added charging ports for whatever phone you may have. The fiber optic lighting is a must-have when you're traveling on a party bus. Trust us, we know! Click for your FREE quote today! Start your new adventure.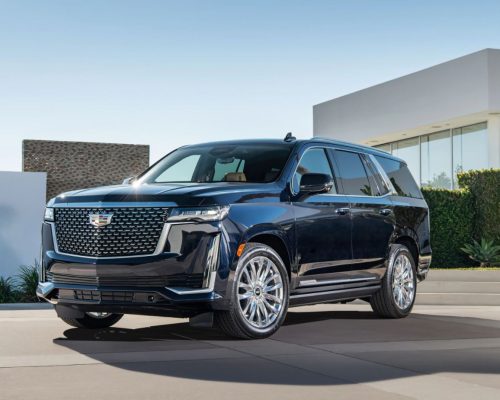 This highly comfortable luxury SUV is better than you can imagine. Our Cadillac Escalade boasts excellence with its leather interior, reclining seats, and ample room for each of the 6 passengers riding along. The crystal clear surround sound creates an atmosphere that is impenetrable to exterior noise. Although this monster of a vehicle isn't a party bus, it is the next best vehicle on the list for traveling comfortably. Click to get your FREE quote for the first-class Cadillac Escalade today! 
Ready For Your Next Party?