Do you need help arranging Virginia's best Christmas light displays? Call (540) 645-2239 to hire the best party bus in Fredericksburg to get the most out of your holiday season.
The holidays are a magical time when families, friends, and loved ones reunite to celebrate the year. While looking for a different way to celebrate this year than holiday parties and cookie bake-offs, take a trip through one of Virginia's stunning Christmas lights displays.
With proximity to our Nation's Capital and beautiful natural environments, Virginia boasts some of the most stunning twinkling lights during Christmas. If you want to see some of Virginia's breathtaking displays, check out our list of the best below.
9 Christmas Light Displays We Love in Virginia
From the splendor of Washington DC to the rolling hills of Richmond, Virginia is a holiday spectacle. The trail of lights through the state highlights some of Virginia's best cities and suburban beauty. Here are some of our favorite Christmas light displays:
The National Christmas Tree
There's no better place in the country to catch stunning Christmas displays than our nation's capital. Each year, there is a ceremonial tree lighting of the national Christmas tree. As one of the largest Christmas trees in the country, the 50 trees surrounding it add to the spectacle.
Take the trip to DC to join thousands in celebration at the National Christmas Tree lighting. It's a fun trip for the whole family.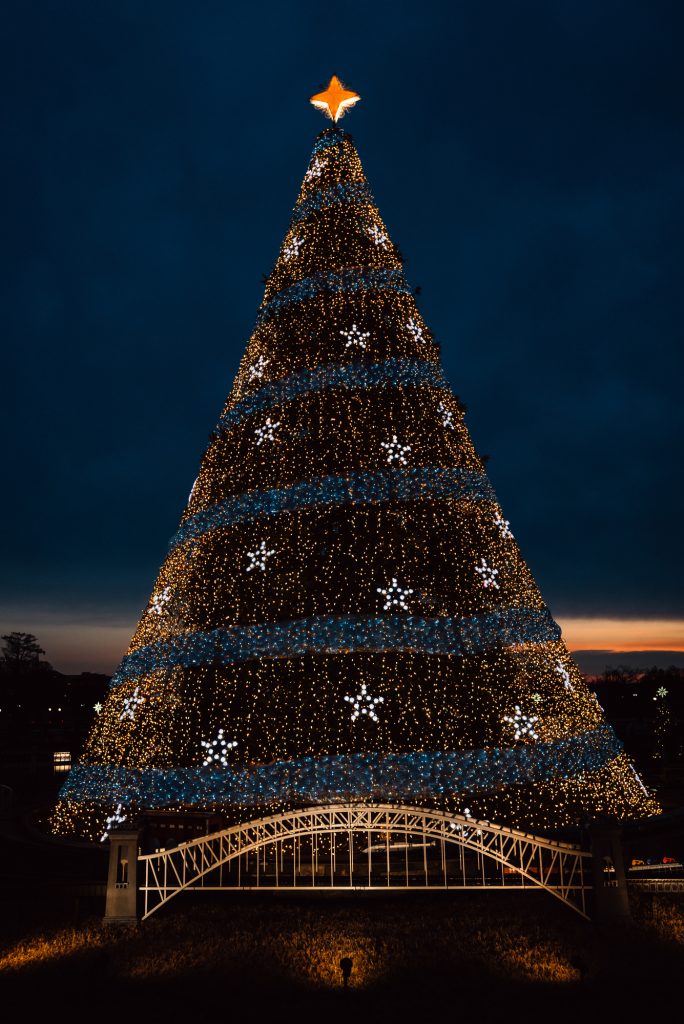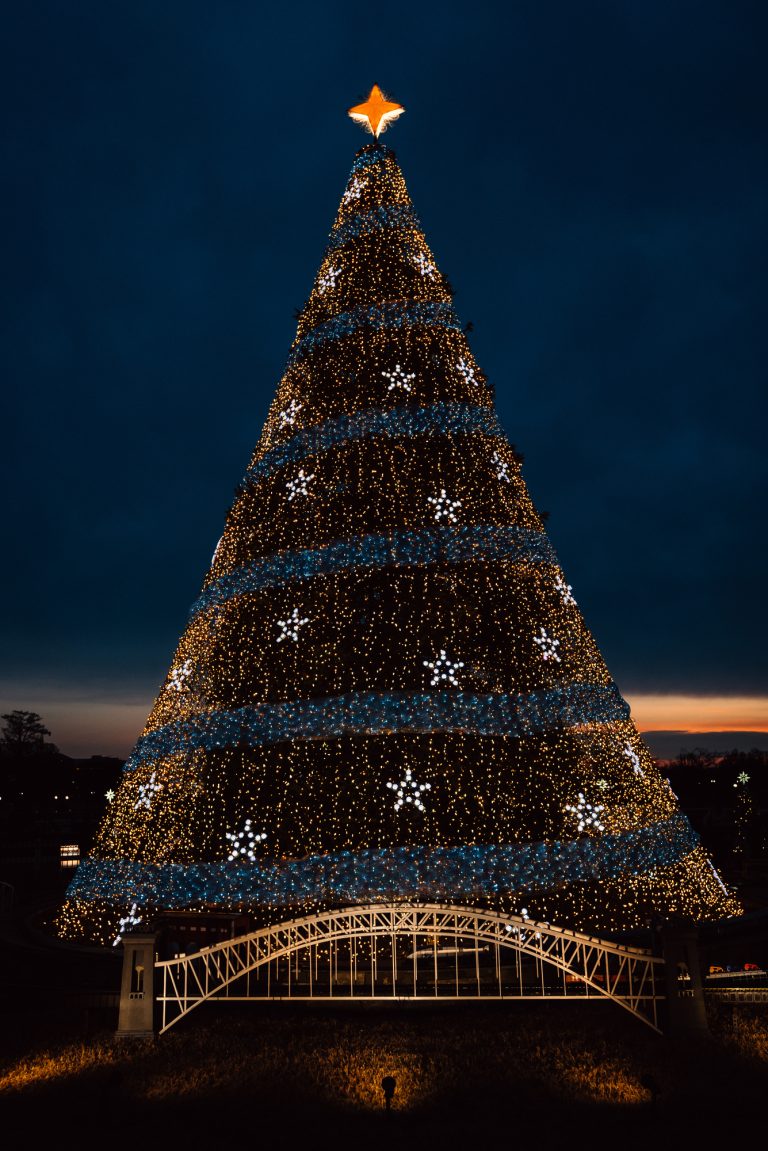 Norfolk Botanical Garden
The Norfolk Botanical Gardens offer a stunning mile-long walkthrough Christmas lights display. Since the trail is stroller and wheelchair accessible, every family can enjoy the beautiful lights twinkling among the lovely botanical gardens.
Open every night starting November 11th, Norfolk Botanical Garden is perfect for families who want an early jump on the holiday season. Weeknights offer discounts making this an excellent option for affordable family fun.
Virginia Beach Boardwalk
Virginia Beach's boardwalk offers year-round fun, but the boardwalk literally lights up during Christmas time.
Only during the holidays can cars drive on the boardwalk at night to enjoy the splendor of its Christmas light displays. With nautical-themed scenes harkening to the locale, this is one of the cutest light displays in the state.
The USS Wisconsin
The Norfolk Naval Base is a popular attraction year-round but becomes far more spectacular during wintertime. Each year the ship hosts a holiday known as WinterFest.
After transforming the USS Wisconsin into a Christmas lights display, it's no surprise that this is one of Virginia's most famous Christmas celebrations. Enjoy visits with Santa, live music, and ship tours while marveling at one of the nation's most unique Christmas lights displays.
Busch Gardens
Christmas Town at Busch Gardens, Virginia, is one of the most impressive lights displays in the state. With over ten million lights, all your favorite attractions seem more magical at Busch Gardens during the holidays. Enjoy your favorite rides, Christmas shopping, and performances at the Busch Gardens holiday extravaganza.
Virginia Living Museum
For a unique experience, try the laser lights Christmas display at the Abbitt Planetarium at the Virginia Living Museum. Some of your favorite holiday tunes accompany dazzling lasers as they create a beautiful Christmas show. Switch things up this year at the Virginia Living Museum.
Meadowlark Botanical Gardens
A slightly more quaint spot than other displays on our list, the Meadowlark Botanical Gardens offer a beautiful half-mile walk through bright displays. With a shorter distance, this enchanted walk through the botanical gardens is an accessible activity for all ages and ability levels.
Tinsel VA
Tinsel VA is a new Christmas festival of lights brought to Northern Virginia by the Washington Capitals Hockey Team. With tons of fun features like food trucks, live music, and visits from Santa, Tinsel, VA, is more than a regular Christmas lights display. On select nights you can even catch the team's mascot roaming the light displays.
Bull Run Festival of the Lights
One of the longer displays on the list, the Bull Run Festival of the Lights boasts a 2.5-mile dazzling Christmas lights display. Enjoy an affordable holiday celebration by purchasing your ticket online ahead of time. Afterward, head to the nearby Holiday Village for bonfires, s'mores, and carnival rides.
Arrange Memorable Transportation from 540 Party Bus to See Virginia Christmas Light Displays
If you want to celebrate Christmas on a party bus and visit Virginia's best Christmas light displays in style, hire 540 Party Bus. Call (540) 645-2239 to schedule one of our luxury party buses, shuttles, or sedans for your holiday celebration.